When it comes to your home, how do you like to decorate? Do you love classic looks? How about bright, fun colors? Maybe you like to find ways to incorporate the latest design trends into your decor. Whatever it may be, there's a Roman shade style to match your home and personality. With amazing features and gorgeous style, you can't go wrong with a roman shade. We've laid out a few ideas for different personalities. Take a look, and get inspired to show off your personality through your decor!
If You Love Classics…
When most people think of roman shades, they picture this Roman shade style. The classic design creates a timeless look in any room. When lowered, the flat fabric looks smooth and classy. Want some natural sunshine to illuminate your room? Raise your roman shades, and admire the neat folds as they dress your windows in elegance. Match your shades to your decor for a perfectly polished look.
If You Know The Latest Trends…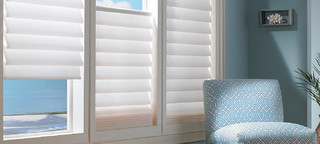 The newest styles. The hottest designs. The coolest trends. You know them all. You love reading about interior design (or just looking at pictures). If this is you, this Roman shade style will fit into your home beautifully. They're called Vignette modern roman shades. Made from your choice of fabric, the gorgeous folds look like a flowing waterfall. Similar to hobbled or teardrop shades, the dimension adds designer style to your windows. Stay up to date with the latest trends, like home automation, by adding motorization to your shades. Control your environment at the touch of a button. Beauty and function...all in one.  
If You Are An Organizer…
Maintaining an organized home is important to you. You like your rooms to look neat, clean, and put-together. Style is a must, and your room decor should flow together. The best Roman shade style for this personality would be knife pleat or ribbed pleat shades. The sleek lines add style and structure. Your room will look amazing once you pick out the perfect fabric, texture, and pattern.
If You Want Style And Function...
Having a comfortable environment is just as important to you as having a stylish room. Solera soft roman shades is a great option for your Roman shade style. By adding gorgeous volume with the streaming contours, you'll have designer style. Incorporate your personal taste with your choice of color and texture. You can easily control your environment with this Roman shade style by adding features for light control and convenience, like top down bottom up operation, energy efficiency, and motorization. You deserve it all, and with this shade, you can have it!
Which Roman Shade Style Fits You?
No matter how you like to decorate your home, or what styles you're into, there's a Roman shade style that will look great in your space. Do you love the luxurious look of Solera soft roman shades? How about the classic appeal of the traditional roman shade? Still wondering which would work best with your home? We're here to help you decide. Contact our team at Grand Valley Window Coverings for a free, in-home consultation. See the shades in your home, and discover which you love most! Let's get started today.