Our Arizona weather is warming up, and soon it will be summertime. For now, let's try to enjoy the temperatures before they heat up too much! Have you been opening your windows to let in some fresh air? Are you looking for ways to cover sliding glass doors in your home? There are a few things to take into consideration when deciding on the best window treatments for your doors. Take a look at our guide and find out how you can cover sliding glass doors!
#1 Consider Function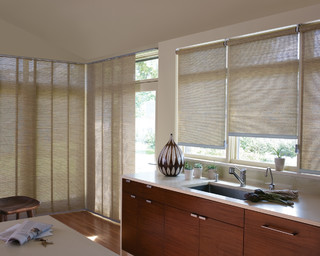 You want to cover sliding glass doors in your home, but you're not sure what to start. We've got the solution. When looking for the right window treatments for doors, you need to consider function and safety. How often do you open and close your sliding doors? If you have kids or pets, you're probably opening and closing all day long, which is why function is so important. You need window coverings that won't interfere with your daily activities, as well as coverings that are safe and durable. Consider one of our favorite operating systems: push/pull control or motorization. With push/pull solutions, like the wand, you and your kids can easily adjust your window treatments. Do you want to use your smart device or a remote to control your door shades? You can with motorization! Or, create a schedule based on your lifestyle. Convenience, control, and function all in one.
#2 Think About Style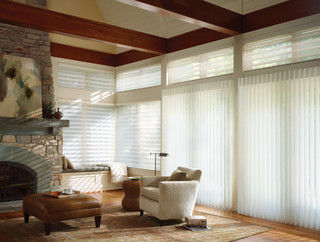 Most people looking to cover sliding glass doors are simply looking for light control. You will certainly block off light with window treatments, but you'll also add incredible style to your home. When you're looking to cover sliding glass doors, consider the window treatments that are in the same area. You want to match your door shades to these, but it doesn't have to be exact. We will help you find the right colors and styles from our large selection of gorgeous fabrics. You don't even need the same type of window treatment; mix up the orientation or choose different window coverings for a fun, designer look. It's your home; decide what you love and go for it!
#3 Improve Your Environment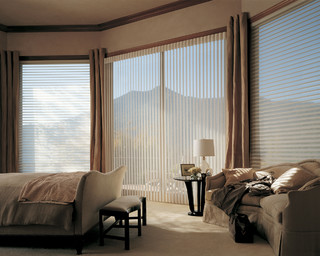 It's no secret that bare windows can become a hassle. There is no coverage from the sun, which mean the UV rays that come through your window can cause damage to your furniture and decor. The weather may be comfortable now, but soon it will be summer. Do you want the hot sun to heat up your room? Talk about uncomfortable! When you cover sliding glass doors, you also gain control over your privacy. The view may be great with bare windows, but the outside world can see inside your home. Don't let your glass doors make your environment uncomfortable. With the right window treatments, you will relax in style.
Cover Sliding Glass Doors: Enhance Your Lifestyle
If you're looking for ways to cover sliding glass doors, look no further. Grand Valley Window Coverings has different solutions for you. Whether you want gorgeous style, light control, or privacy solutions, we're here to guide you to the best window treatments for your glass doors. Contact our team today at Grand Valley Window Coverings for a free, in-home consultation. We can't wait to get started!