Are you tired of sunshine flooding your bedroom every morning? The Arizona sun can be overwhelming! What about feeling like your neighbors can see everything you're doing in your home? It sounds like your home is lacking privacy control. Did the previous owners of your house pick out your current blinds? That's not your style. It might be time to get some design help, and we've got the solution for you! We know you may be hesitant, but don't be. Shove these common worries to the side, and invite us over! We'll transform your home together.
Feeling Embarrassed?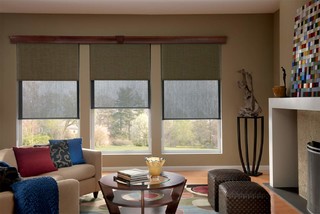 Are you embarrassed by the blinds or shades on your windows? We hear this all the time, and we say don't worry! We've seen it all. The look may be outdated, the fabric might be ripped, or they're just not your style anymore. It doesn't matter; what matters is you get design help with choosing the right window treatments for your home. You can book an appointment with us to get started on your transformation process. We'll set you up for a consultation with a professional designer who will show you different options depending on your wants and needs. Have bare windows? We'd love to help you discover exactly what will work for you and your home. You'll learn all you need to know from an expert.
Messy House?
Do you think your house is messy? You're not alone. Most people look at inspirational design photos, thinking it's real life. We're here to tell you–it's not. We don't expect your home to be staged. It's lived in. You're going to have messes. Don't let this worry stop you from getting design help. We won't mind working around your schedule or your "mess!" There might be dishes piled in the sink and laundry to be folded, perhaps half-eaten breakfast still on the table, but we won't mind. Slide over the cereal bowls and sit down with us. We'll work together to figure out the best solutions for your lifestyle. And, even better, we'll incorporate features that make your day to day life simpler.
Having Trouble Deciding?
Blinds, shades, and shutters all have unique functions. There are different styles to choose from and special features to add. We understand that it can be overwhelming, which is why we want to give you one-on-one design help with a professional. Don't waste time scrolling through online photos or troubling yourself with crowds at your local big box store. Instead, see ideas in the comfort of your home. We'll come to you with samples, advice, and ideas. We'll work together to narrow down your options so it isn't overwhelming. Don't worry! Your designer will give you all the information you need.
Schedule Your Design Help
There are so many reasons you've been avoiding getting design help, but we're here to tell you to put those worries aside and invite us over! Get the fashion and function you deserve. Contact our team at Grand Valley Window Coverings to set up your free, in-home consultation. We can't wait to get started on your project!